Topics Print & Co
Topics describe the different reasons or occasions for labeling. Each requirement has its own special challenges and therefore suitable marking solutions.
According to EU Regulation 1169/2001 LMIV, food and beverages must be labeled.
Whether in the pharmaceutical industry, automotive or food production, ensuring counterfeit-proof products is an urgent issue.
In the case of error marking, a good or bad marking must usually be applied automatically following an inspection process.
There are legal requirements for the traceability of products in many industries. They apply above all where the health and safety of consumers may be particularly at risk.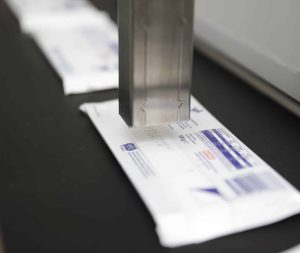 Depending on the type of product, industry or country, there are as different as numerous regulations and laws for product labeling.
In order to ensure a consistently high quality of goods in production, continuous quality assurance is required.
Each product in a production series is assigned a unique, usually random and coded serial number, which is stored in a database and assigned to the corresponding production data.
For the further route along the supply chain, products in outer packaging (the secondary or also tertiary packaging) must be labeled at each packaging stage.
Industry 4.0, digital transformation, process automation – these are the drivers in industrial production.